The saying the pen is mightier than the sword is something my mom used to tell me all the time. Words that I use with my own four scrappy grand-boys, who come from a long line of scrappers. It is the power of those written or typed words that can capture time, heal and inspire nations to rise up.
I have written since I fell in love with reading at a very early age. I would lock myself in my tween bedroom and read novel after novel. Experiencing Scarlett O 'Hara, and many heroines that took me away from being a latch key kid. We are the heroine in our own story. A story each of us have to tell. Life is hard. Simple. And as we ride our tattered white mare to the finish line, the spark in her eye will remain. A life well ridden, deserves the wonder of telling that story for future generations, but for the truth of knowing when you write it is your truth. And as my grandmother would say, " life's work well done."
I was blessed on my birthday with many gifts of time. Gifts of reveals, healing and truths. One gift of wonder is forever etched into my mind. My grand-daughter fell asleep on the way to a light up ceremony at Silver Star Resort. She left a snowless urban setting and I tickled her nose to wake her up, we were both standing under the lit up trees and sparking Christmas lights. Her eyes looked around with complete wonder. The lights, falling snow tangled in her lashes, fire dancers with iridescent wings surrounding her, and she looked at me with her gold eyes and whispered "It's Christmas Gramma."
As I write those words I can take you to a precious moment that only a three year old can see. That is the power of words. It doesn't matter that the words are grammatically perfect, it matters that you share what you see and in that we can connect in a way that sustains us all.
Talking to Val Trevis on my podcast, as she pivots and honours her mother in her next life stage of being a writer. Something she always was. I am in awe of her words, the similarities we share and her courage.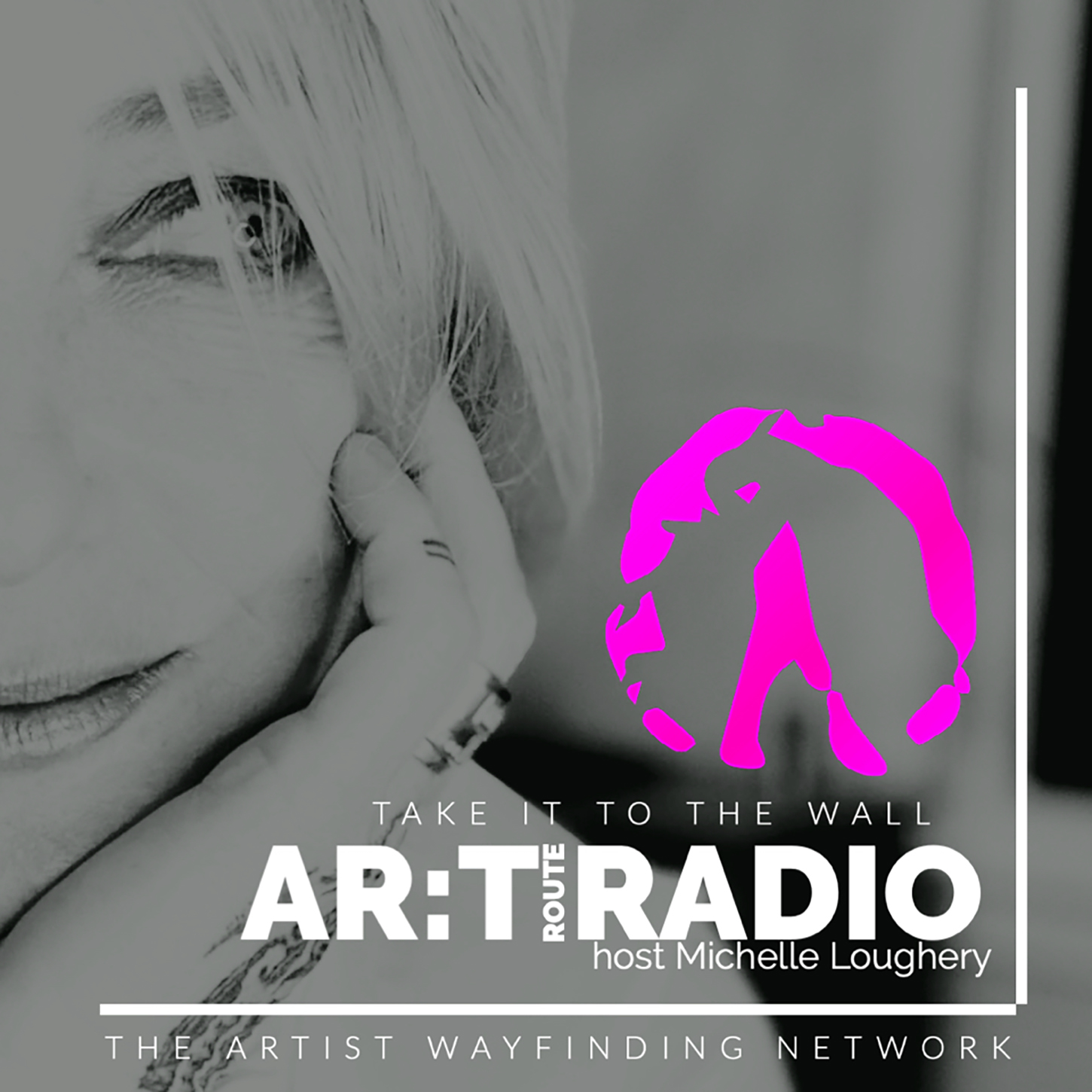 Wayfinder Mentorship with Guest Artist Hanako Nagao E030
–
ART ROUTE Radio
Artist Loughery's passion for mentoring is legendary in the youth projects she designed and executed. Through digital scaffolding connection this mentorship is still very much part of her art practice. Indigenous Artist Hanako Nagao is a new mural talent from Golden, British Columbia. Her work is a lens of today to yesterday as she creates a stunning piece of Metis mural art for her community. Hanako explored the process of the art story telling through much interaction, conversation and asking what the community wanted to see in the piece that would reflect so many.  Please join Michelle and Hanako as they talk art murals and story telling as they take it to the wall  on AR:T ROUTE RADIO…. "To me art is simply how we communicate from the soul. Anything you create using emotion, creativity, and passion is art, whether with paint or clay or an instrument or your own body movement. Art brings us together, makes us think, helps us experience things that words may not be able to capture, provides entertainment and escape. Art is what makes life worth living. " – Artist Hanako Nagao     Hanako is a Japanese and Metis visual artist, performer, and producer residing in the unceded territory of the Ktunaxa and Secwepemc Nations, in Golden BC.   Follow the link to learn more about Artist Hanako Nagao and her artwork. Instagram @StrangeFamiliar.Art
https://www.instagram.com/strangefamiliar.art/
  AR:T ROUTE Radio … be connected follow  Artist Michelle Loughery Instagram   |   AR:T ROUTE Radio Instagram  |  AR:T ROUTE Radio The Creative Wayfinding Network |  Take it to the Wall Blog  | AR:T Route Radio Facebook Go see the The Sunflower Project's Year of the Sunflower and see how you can get involved – link Subscribe and follow, and donate to the podcast! Donate and support Wayfinder Projects and art stories on AR:T Route Radio – link  AR:T ROUTE Radio is an emerging canvas of immersive AR:T experience spots, art installations, mapped destination digital murals towns, with highlights of the hidden stories of Loughery's and other artist's work and the inspiring people you meet when painting on the streets.  Conversations about community art, social change, and so much more.   A 30-year mural pioneer, Master Artist Michelle Loughery has created numerous award winning mural projects, raised millions for communities through her innovative Wayfinder art program. Loughery is bringing stories of the power of community art to the digital wall. See the radio and hear the street art!  BIG ART, BIG WALLS, BIG STORIES!  Join our communities on Instagram and Facebook!   @artistmichelleloughery @artrouteradio  @artrouteblue  @thesunflowerproject.ca  AR:T ROUTE Blue music by Tanya Lipscomb. "We acknowledge that we work and gather in the northern part of the unceded Okanagan First Nation territory and that many descendants of the Suqnaquinx still live here." © 2022 Michelle Loughery Productions. All Rights Reserved.