From the time I was a child my life was exposed to small rural disasters. As a child growing up in a coal-mining town, the essence of dark fear was a normal.
I remember my father coming home with his bright blue eyes rimmed with the residual black coal dust and his presence smelling of the oily scent of the mines. Talk around the kitchen table sometimes talked about the dangers of the work and there were the times of the mine disasters, fires and floods. I remember my mom and all the women springing into action in the long dark nights when bodies were pulled from the crushed in mine shafts. I must have been but seven years old.
The stories of floods and fires and disaster was part of living hard times in a constant struggles to rural and resource town survival. But there were such great times too. Communities coming together for rebuilding, parades and community celebrations, weddings and non-profit way of life infrastructure and disaster response building. It was the way of life. There was no other way.
Today it seems like all these hard times are places in the sensationalized media as new, yet as I turn 60 I remember the same scenes and can hear the memories of the work and skills to continually just start again. The communities lived disaster response, it was just one of the threads in a life. A wonderful, challenging life that was held together with people of resilience and bravery.
I have met many people on my wall journeys. Many were from small rural towns trying to reinvent themselves once again. Murals were something my small town used to try to bring in tourism and tell the stories of the people that gave lives to build community. Our town copied the success of the resource town of Chemainus and the arts groups championed art as a voice of the people.
When as a young woman I saw those first walls, I was enthralled. Seeing the pride in what the working people did to honour the working people was spectacular in the super sized scale. The giants that raised me. Maybe not celebrities in the way sports and music stars are today. But heroes of the everyday. When I first got to paint a wall, it was natural for me to want everyone to join in. Come on everyone..let's do this together. It was how I was taught to do things that were hard. And that first 100 foot wall was hard. But many hands made it fun and together a work of memories, with youth and elders launched a connected mural community tourism trail idea that is embroidered on my life tablecloth.
It was again a natural fit when I was commissioned to paint murals across ROUTE 66. The concept from small town, taken to many other places, to Vernon and then to Cuba, Missouri. The Route 66 Mural City was designed and my placemaking architect skills gifted to me by my home town were leading a real rural legacy trail.
One of the gifts at the beginning of the journey was a woman named Lorrie Fleming. This women started the Canadian Route 66/99 Association with many including Red Robinson. This sister mentor has supported the dream of a connected Canadian/USA art mural trail since 2000 and has taught me more about our own highway heritage narrative than I could ever have imagined. She is the Queen of our highways. The true authentic story teller.
In these hard times when so many have been devastated along our highways again, I think turning to history is key. Let's rebuild and when we do, tell the stories of the heroes who build the communities in the first place, so we never forget the giants whose backs we walk on. We can look back to not repeat mistakes and we can take the combined skills of all to make resilient communities that respect and live with nature. Disaster is hard. I can remember the faces of my small town people. The looks of weary determination. I hear my mom saying to me that they used to make soup from the potato peels and how a loaf of bread can fill up a crew of hungry workers when the soup was thin.
So perhaps the trail of mural art that I have seen for such a long time, is in the stories, the radio and the voices that still and will forever linked us all to the highway of life.
grab some tea….be grateful if you have cream….and take a listen…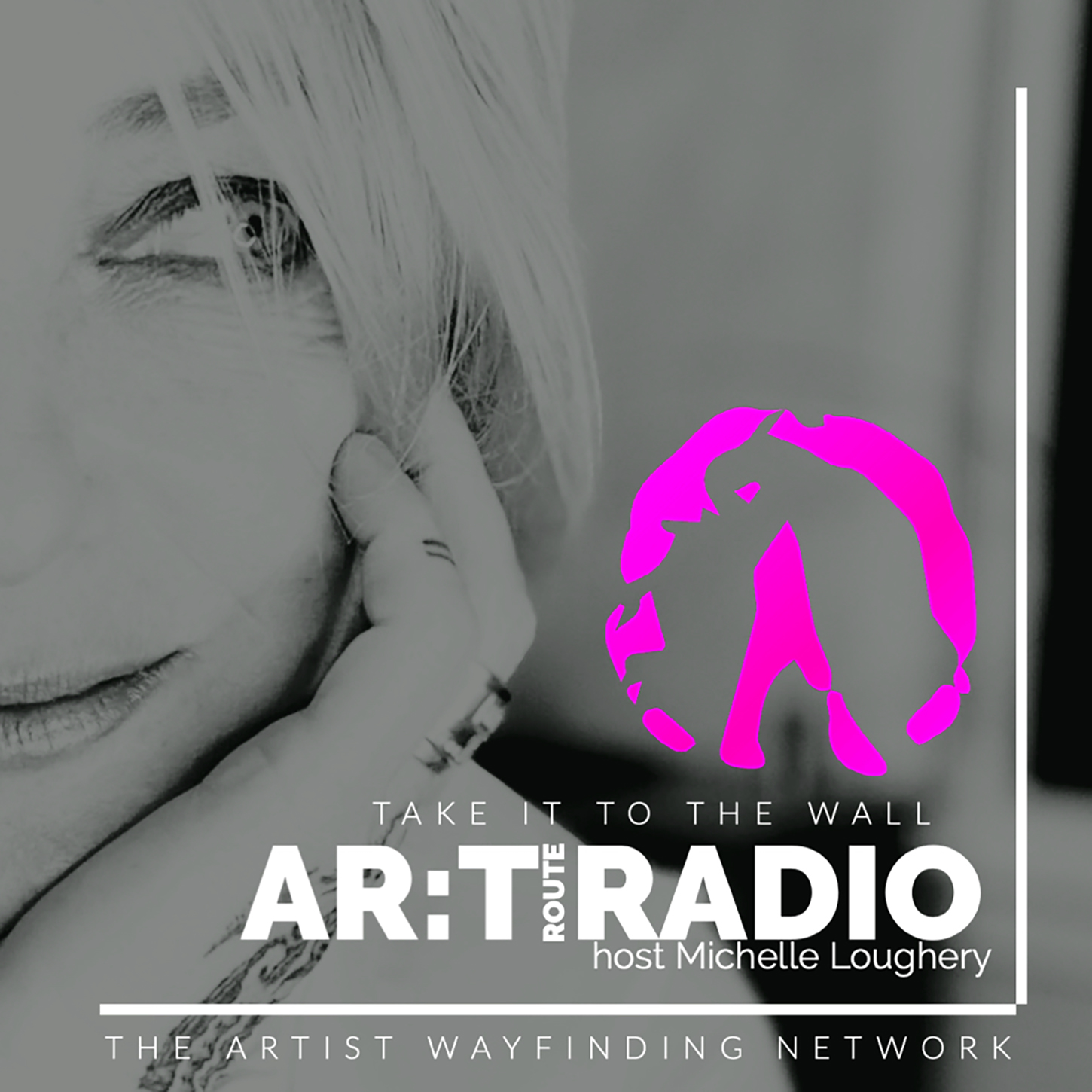 Magenta Diaries with Guest Artist Maya Ritchey E039
–
ART ROUTE Radio
On the first episode of the Magenta Diaries series, Artist Michelle Loughery spends time with emerging artist Maya Ritchey.   The two talk content making, creative similarities, and the bonds of collaboration and authenticity in the arts as a passion.     Follow theses links to learn more … Shaw Spotlight by Maya Ritchey: Artist Michelle Loughery Maker of Murals  Creative Community Inventor Michelle Loughery empowers her community.   Artist Maya Ritchey Instagram Cinematographer, Writer, Director & Performance Artist Subscribe and follow, and donate to the podcast! Buy Me a Coffee on AR:T ROUTE Radio!  Donate here and support Wayfinder Projects and help us share more Wayfinder ART stories. AR:T ROUTE Radio – subscribe and follow here …  Artist Michelle Loughery Instagram   |   AR:T ROUTE Radio Instagram  |  AR:T ROUTE Radio The Creative Wayfinding Network |  Take it to the Wall Blog  | AR:T Route Radio Facebook AR:T ROUTE Radio is an emerging canvas of immersive AR:T experience spots, art installations, mapped destination digital murals towns, with highlights of the hidden stories of Loughery's and other artist's work and the inspiring people you meet when painting on the streets.  Conversations about community art, social change, and so much more.   A 30-year mural pioneer, Master Artist Michelle Loughery has created numerous award winning mural projects, raised millions for communities through her innovative Wayfinder art program. Loughery is bringing stories of the power of community art to the digital wall. See the radio and hear the street art!  BIG ART, BIG WALLS, BIG STORIES!  Join our communities on Instagram and Facebook!   @artistmichelleloughery @artrouteradio @womenofmichel @artrouteblue  @thesunflowerproject.ca    "We acknowledge that we work and gather in the northern part of the unceded Okanagan First Nation territory and that many descendants of the Suqnaquinx still live here." © 2023 Michelle Loughery Productions. All Rights Reserved.