Artists work with their hands and hearts. And create art that shares her heart.
Master Artist aj Jaeger does just that. she wears her-art on her walls and on the walls of those that collect her work world wide.
Put the kettle on and make a cup of really good tea. And listen to aj and I talk about the exposed layers of the hidden work of an artful life.
https://www.artrouteradio.com/e/turning-the-lens-with-guest-artist-aj-jaeger/
https://www.artrouteradio.com/e/turning-the-lens-with-guest-artist-aj-jaeger/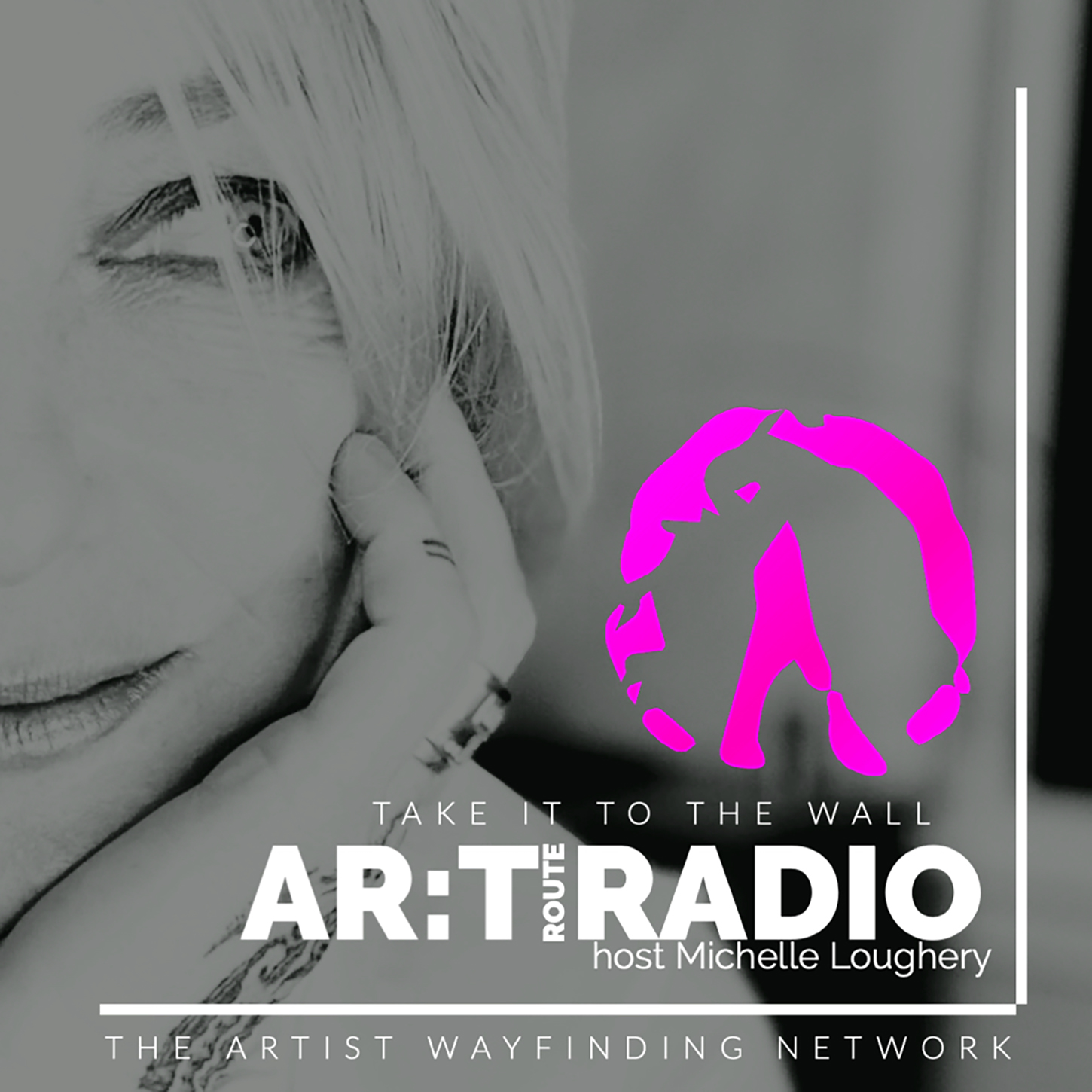 Magenta Diaries with Guest Artist Maya Ritchey E039
–
ART ROUTE Radio
On the first episode of the Magenta Diaries series, Artist Michelle Loughery spends time with emerging artist Maya Ritchey.   The two talk content making, creative similarities, and the bonds of collaboration and authenticity in the arts as a passion.     Follow theses links to learn more … Shaw Spotlight by Maya Ritchey: Artist Michelle Loughery Maker of Murals  Creative Community Inventor Michelle Loughery empowers her community.   Artist Maya Ritchey Instagram Cinematographer, Writer, Director & Performance Artist Subscribe and follow, and donate to the podcast! Buy Me a Coffee on AR:T ROUTE Radio!  Donate here and support Wayfinder Projects and help us share more Wayfinder ART stories. AR:T ROUTE Radio – subscribe and follow here …  Artist Michelle Loughery Instagram   |   AR:T ROUTE Radio Instagram  |  AR:T ROUTE Radio The Creative Wayfinding Network |  Take it to the Wall Blog  | AR:T Route Radio Facebook AR:T ROUTE Radio is an emerging canvas of immersive AR:T experience spots, art installations, mapped destination digital murals towns, with highlights of the hidden stories of Loughery's and other artist's work and the inspiring people you meet when painting on the streets.  Conversations about community art, social change, and so much more.   A 30-year mural pioneer, Master Artist Michelle Loughery has created numerous award winning mural projects, raised millions for communities through her innovative Wayfinder art program. Loughery is bringing stories of the power of community art to the digital wall. See the radio and hear the street art!  BIG ART, BIG WALLS, BIG STORIES!  Join our communities on Instagram and Facebook!   @artistmichelleloughery @artrouteradio @womenofmichel @artrouteblue  @thesunflowerproject.ca    "We acknowledge that we work and gather in the northern part of the unceded Okanagan First Nation territory and that many descendants of the Suqnaquinx still live here." © 2023 Michelle Loughery Productions. All Rights Reserved.