Click to experience Pieces of Her Story Dress Process
Buy PIECES of Her ART SCARVES
The Women of Michel "Pieces of Her " art series in creative progress
PIECES of HER…STORIES on AR:T ROUTE RADIO PODCAST
Community WAYFINDER ART on The SUNFLOWER PROJECT
Buy BUTTERFLY MURAL ART & WAYFINDER ARTUCATION ART
Buy LOUGHERY ART SCARVES
MASTER ARTIST and Social Change Warrior

Loughery is a world renowned, award winning artist that creates large public art murals, provocative studio and installation art and legendary projects around the globe.
ART ROUTE RADIO-PODCAST HOST
Climb Loughery's digital scaffolding and Hear the art and see the radio. Loughery curates mural towns and brings interesting stories of social change and more to her TAKE IT TO THE WALL platform.
Mural Community BEST PRACTICES
Loughery WAYFINDER ART Mural Projects left legendary projects that engaged thousands of people of all ages to her massive art walls. Podcasts, speaking engagements and Wayfinder Art workshops are just some of the platforms Artist Loughery uses to engage and include others in art for social change.
CONSULTING AND PROJECT MANAGEMENT. The goals and impacts Wayfinder Murals or Installation project are multi-layered. The process provides structured by creative activities within a familiar setting: one's own community in a collaborative community process. The process allows participants to develop artistic abilities, learn about history and community themes, social change, articulate ideas, work in groups, develop an idea into a cohesive visual message, and bring their voices and vision to their own streets. In addition, the project's "product"-the mural itself- becomes a trophy of a polished and concrete achievement and art in community inclusive action. The project also impacts the greater community: youth, elders and friends of all nationalities and cultures, sponsors , local businesses, and the very people in the community take pride in a project well done, make contributions and engage in discussion about the work. Loughery was mentored by Chemainus Fame Dr.Karl Schutz for over 30 years and shares his vision of a Global Mural Trail to connect us al
o.
AR:T ROUTE RADIO PODCAST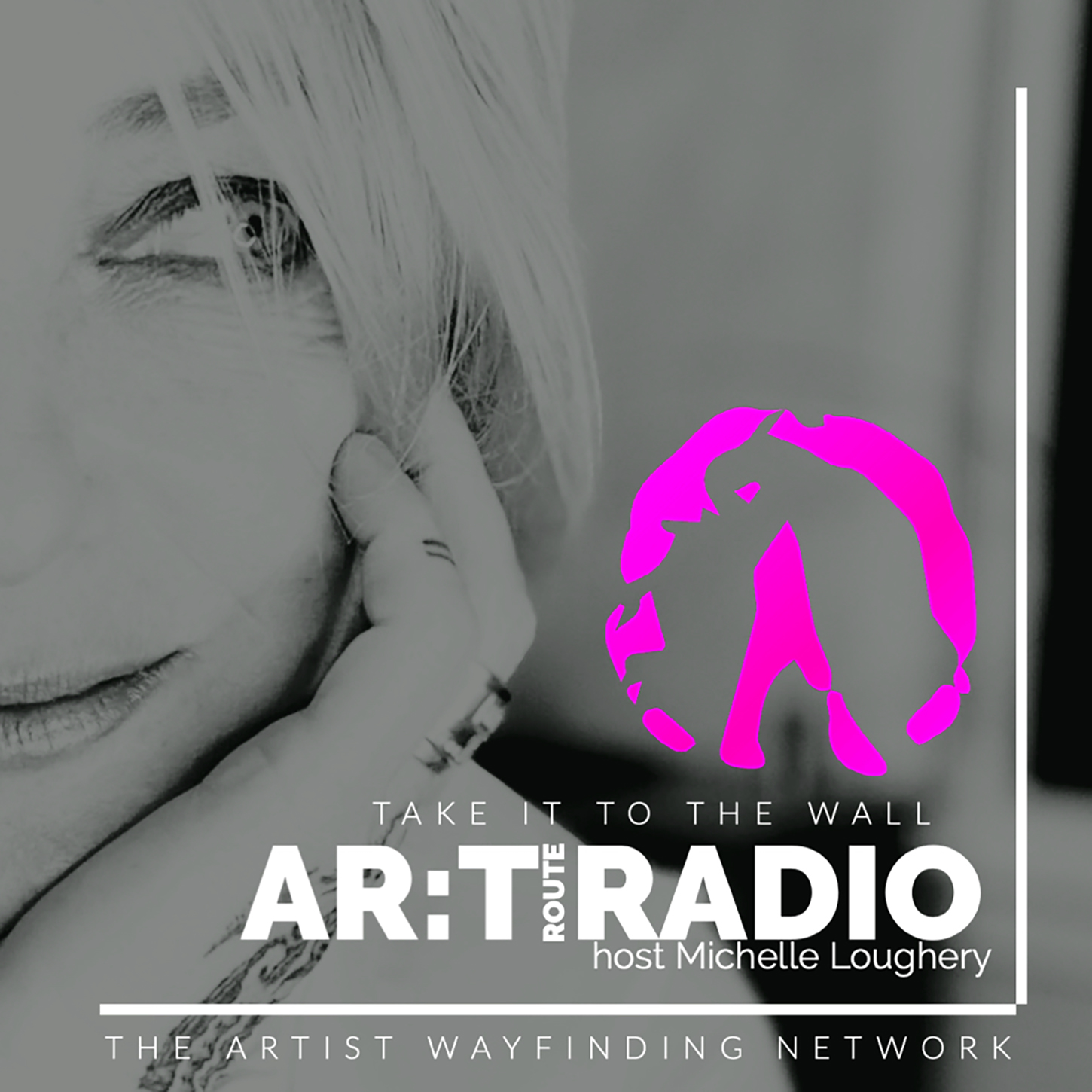 In this episode, Master Muralist and Internationally Renowned Art Educator, Artist Michelle Loughery talks about Wayfinder ART … people think it was a mural project.  It was. But it was also a trades training center, a school without walls, a social connection bridge to community support without doors that intimidate … take a listen.   Donate to this podcast and help us to find and tell more Wayfinder ART Stories about social change and innovative community social art.  Buy Me a Coffee here on AR:T ROUTE Radio!      Purchase the Wayfinder ART poster – click here! a portion of proceeds will help us tell more Wayfinder ART Stories … your support matters! Subscribe and follow, and donate to the podcast! Buy Me a Coffee on AR:T ROUTE Radio!  Donate here and support Wayfinder Projects and help us share more Wayfinder ART stories. AR:T ROUTE Radio … be connected follow  Artist Michelle Loughery Instagram   |   AR:T ROUTE Radio Instagram  |  AR:T ROUTE Radio The Creative Wayfinding Network |  Take it to the Wall Blog  | AR:T Route Radio Facebook AR:T ROUTE Radio is an emerging canvas of immersive AR:T experience spots, art installations, mapped destination digital murals towns, with highlights of the hidden stories of Loughery's and other artist's work and the inspiring people you meet when painting on the streets.  Conversations about community art, social change, and so much more.   A 30-year mural pioneer, Master Artist Michelle Loughery has created numerous award winning mural projects, raised millions for communities through her innovative Wayfinder art program. Loughery is bringing stories of the power of community art to the digital wall. See the radio and hear the street art!  BIG ART, BIG WALLS, BIG STORIES!  Join our communities on Instagram and Facebook!   @artistmichelleloughery @artrouteradio  @artrouteblue  @thesunflowerproject.ca  AR:T ROUTE Blue music by Tanya Lipscomb. "We acknowledge that we work and gather in the northern part of the unceded Okanagan First Nation territory and that many descendants of the Suqnaquinx still live here." © 2022 Michelle Loughery Productions. All Rights Reserved.